But.. WHO is behind this website?
My name is Eva-Desiree. Andromedan Mission realmer.
My Energetic centrums are Divine communication & Order,
My Soul specialty is Transformation & the connection between Mind-Body.
Getting Astrology books as a present when I was born, seems like they smelled it from afar
that Astrology would become a very important path and passion of mine when growing up.
My existence was protected & supported by my own Astrologer when I was just a seed in the womb.
I got fascinating by Astrology at age 16, but never really went into the mathematical depth, until 2017.
I encountered my past life husband…
This triggered the absolute hell out of me, to research, to pin point where those feelings are rooted.
"OH.. yes, Southnode conjunct Juno , Moon exact conjunct Moon,  Psyche trine Eros..
I thought I recognized  your energy, Dibil'
It was a year of radical change, and Astrology became a the focal point of my everyday life.
Up until now, I am still learning Astrology on a daily independent basis
and I experiment with various predictive methods.
I shall insert a pic of my face right here now (May 2021) :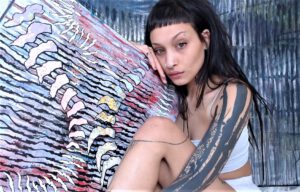 (November 2022)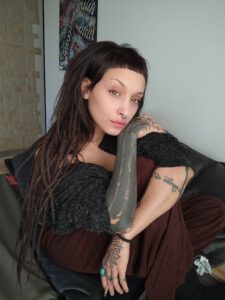 Astrologer – Researcher – Writer – Philosopher – Painter – Occasional music Composer & Producer – Intuitive singer – Mother – Hermit
Watch me talk out loud
Astrology background :
I started studying the basics of Astrology in 2012, lost my focus due to other stuff happening in life.
In 2017 I picked up where I left and continued.
In 2018 I bought a course which was absolute shit and a waste of money.
I created 'PlutonicDesire' and founded this website.
In 2019 I purchased a decent course to structure my knowledge.
I am one of those who enjoys complex stuff but making it simple
and understandable so that anyone can benefit from the ancient knowledge
= Astrology
My Approach :
I am a reality slapper, but with a heartwarming approach.
Communicating the natal potential for transformation and growth.
What I love most, is to encourage people
Help them on their path of understanding difficulties and challenges,
To help shed the decay.
Leveling up.
I translate Misfortune into Wisdom.
My Birthchart :
I have actually used my own birthchart multiple times on this website,
however you may never knew that.
That what I identify most with, is conjunct the angles of outward expression.
Euterpe (music) & Astrowizard (astrology)……….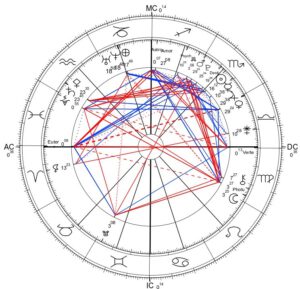 My purpose :
"To simplify the information that's randomly spread on the internet"

I write & research out of own experiences. Most of the things mentioned on this site ;
I have been through them personally, that's why certain obscure topics are to be found on here,
because one wants to know the root of it, and I am not alone in this search.
"I use my wounds constructively and shape them into educational knowledge
which ignite my desire to shine light into darkness."

Which is the literal translation of my Virgo Moon Exact conjunct Pholus, conjunct Chiron in 6th house.
I desire to help others, guide others on occult paths, such as Astrology.
I am an eternal student and constantly improving my website, knowledge & skills.
My purpose and love is deep research, to structure the knowledge into useful overviews
To bring my perspective and take onto Astrology.
This website, my devotion, my work has been brought to you as I got hit by a car and I never returned to my work.
I wake up with startdust and go to bed with stardust, I'm a fulltime researcher, student and practitioner of Astrology.
As of March 4th 2023 I completed a course and received my diploma for Hypnotherapy – past life regression.
Yet I'm not practicing this and it's not a service I offer at this time, but it's the knowledge that I now take with me on my further path.
Currently in the process of writing books on Astrology.
---
More information about the website
---
Other projects aside from Astrology
Music (mainly composing) :
• PLucessit on Soundcloud – Doomcore, cosmic doomcore, experimental
• PLucessit on Facebook
• PLucessit on Youtube
• PLucessit on Instagram
• Nalizblu on Soundcloud – Classical
• Intuitive singing
Artwork (abstract painter) :
• ExpressionatelyRaw (artworks for sale)
Artwork Merch :
• Darkdibil
---
Writing projects
• Twinflame book : ongoing since October 2019 – Autobiography
• PlutonicDesire Quote deck : ongoing since October 2022 – Own quotes
• NameAsteroid book : ongoing since December 2022 – Theory
• Beyond the basics of Astrology book : ongoing since January 2023 – Theory
• Trauma self help book : ongoing since April 2023 – Theory
---

🍀SUPPORT🍀