There are many types of progressed charts. The most commonly used :
• (Secondary) progressions : 1 day = 1 year
• Solar Arc progressions : 1° = 1 year
• Profections : 30° = 1 year
The first 100 days of your life as a baby, represent the 100 years of your life (symbolically) in Progressions
The progressed chart is similar as reading transits, the only difference is that you use the planetary positions of a certain number of days after your birthday. Therefore the personal planets (Sun, Moon, Mercury, Venus, Mars) are the only moving planets in this chart. It shows the psychological changes a person will undergo throughout life.
For example : the 20th day after your birth represents the year when you are 20 years old. It is best to use the progressed chart in comparison to your natal chart, so you can see the aspects that are made to your birthchart planets. In a progressed chart you only look at the personal planets and their progression. The outer planets (Uranus, Neptune, Pluto) are pretty much useless since they won't move much in a progressed chart throughout your life. Same applies to Chiron and Lilith.
You can combine the secondary Progressions with the current planetary transits too, This might be a bit confusing and too much when you just start out with astrology and interpretations. However, an important remark is that when a transiting planet aspects a progressed planet, than it will manifest more noticeably in your life. Especially in a conjunction.

Progressions can also be used for predictive astrology, and even though it shows our psychological evolution, it also indicates how we respond to the inner changes, and the events that come forth from such. The conjunctions in particular show events in the Progressed chart.
If you want to check your Progressed chart to understand love and potentials ; look at the progressed planet that rules your natal 7th house. If you want to check anything related to your career and social status ; look at the progressed planet that rules you midheaven/10th house, and so on.
Don't worry, you don't have to calculate it yourself, there are many websites out there who calculate it for you. You can find the links for your birthchart here.
---
How to calculate
A person born on 08/11/1993 has to look 25 days from that date to know what the 25th year will be like.
The Progressions for the 25th year of life will be the transiting planets of 03/12/1993.
How to read a Progressed chart
• Use personal inner planets only
• Aspect with 0-2° orb = Activation & manifestation
• Conjunctions = Most powerful, trigger for event
• Conjunction to angles = Big life event/change
• Angles changing sign = Important and monumental life event
• Planets changing sign = Psychological evolution & monumental events
• Ascendant ruler changing sign = Psychological evolution & monumental events
• Planets at 29° = Crisis, major turning points or breaks
• New or Full Moon = New chapters & Highlights
Check the Progressed chart individually to see how the planets changed house/sign/aspect to other planets.
Check the Progressed planets in relation to your natal planets, similar as reading transits
The year when a planet or angle changes sign is often memorable and life changing.
The Planet expresses the Sign's energy and traits, and shows where your interest is drawn to.
Meaning of Progressed Planets
• Sun = Evolution of ego identity, focus. Male energy
• Moon = Development of Emotional mind, change in needs. Female energy
• Mercury = Mental maturation. Change of interests, thought process. Moving
• Venus = Evolution & change of what (or who) you love, desires, value, your "type"
• Mars = Evolution & change of drive and energy, expressing the signs traits, your "type"
• ASC = Evolution & change of Physical appearance and personality
• DSC = Evolution & change of relationships, the type of partner you attract, the flavor of love life and partnership
Progressed Sun changing sign

This can happen max. 3 times in a human life. This influences your identity with a new element and modality. It acts as an 'update' of your personality. This explains why people may have a change in their hobbies or interests at certain points in life ; check the Progressed chart and see if the Sun changed sign recently.
Moon as significator of change

The Moon changes signs every 2 and a half years.
This may also explain certain difficult years in a native's life, such as Progressed Moon in Scorpio known to be a difficult period. When the Progressed Moon changes signs it gives your emotions a new & different flavor. The house placement signifies your focus and area where you may find clarity. A more subjective approach to the matters of that house.
• Personal New Moon = Progressed Moon conjunct Natal Moon
This indicates a period of important endings in life and it starts 3-4 years prior to its conjunction. It signifies a period of cleaning & recharging.
Progressed New & Full Moon
This indicates a new chapter in a person's life. The Progressed Full Moon could indicate a permanent ending or a peak in a certain situation. There are 8 Lunar cycles throughout life of which 4 New Moons and 4 Full Moons.
It represents the evolving relationship between the Ego (Sun) & Emotional Mind (Moon)
2 ways to calculate it :
• Progressed New & Full Moon calculator
• Or googling when there was a New or Full Moon in the days after your birthday
What to look at :
• House placement
• Conjunctions to NA planets/points
• Aspects to NA planets/points

Progressed : 3rd quarter Moon
When the Progressed Moon is square to the progressed Sun. Usually a time of crisis, uncertainty and a deep desire for change. Restlessness and worry, or feeling inspired to seek out new ways. A time of changing things, changing plans or ideas. The heart and mind are at battle with one another, difficulty to compromise. One is on a search for new pathways and going more internal, shying away from the public

Progressed : Balsamic Moon
When the Progressed Moon moves to a conjunction with the Progressed Sun. The beginning is a spiritual journey within, preparing to purge. The need to rest and retreat. Feeling anti-social. Lack of energy and les vitality. The need to take things slow. A time to reflect and do inner work. A tendency to disappears from the public screen, an increased need for privacy. Preparing the soil for a new season.

Progressed Lunar return
When the Progressed Moon returns to the natal placement (Moon conjunct Moon)
Usually a time when this comes to an end. An emotional reset, changing needs. A fresh starts.
Often an emotional turning point.
---
Some observations & real life examples
P Moon opposite Uranus in 4th = Moving house
P ASC square Moon = Moving house
P Mercury going into Sagittarius = Moving into a big house
P Sun conjunct P Venus = Marriage
P DSC moving into Pisces = Attracting spiritual and/or delusional partner, people that need help
P Sun changing signs in the 8th = First boyfriend
P Venus moving into Sagittarius or 9th = Attracting a foreign lover
P Moon conjunct Moon = Breakup, change of emotional needs, reset
P Moon going into 7th = More emotional involvement with partner
P Moon conjunct MC = Start of an emotional relationship
P DSC 29° Aquarius in 8th = infidelity, cheating scandal
P Sun conjunct Venus = Marriage
P Moon in Libra = Marriage
P Sun going into Cancer or 4th = Moving house, concerned with family/home
P Venus conjunct Mars (in 8) = Cheating on partner
P 8th cusp conjunct natal 11th cusp = Partner cheated with a mutual friend
P IC 29° Leo in 6th = Partner cheated
P IC 29° = Father died

Feel free to share your experiences!
---
• Major events are primarily indicated by a strong progressed aspect to the natal Ascendant or MC
• Major events are also indicated by Progressed Sun in aspect to natal planets
• Natal angular planets aspected by a progressed planet/point will have a stronger impact
• Progressed Moon mainly highlights the life area(house) where it's progressing through
• Progressed angles or planets in aspect to natal activate the potential of the natal planet
• A progressed square aspect can activate harmonious natal aspects
• Progressed angle conjunct to a midpoint bring events that correspond to the 2 planets involved
---
Examples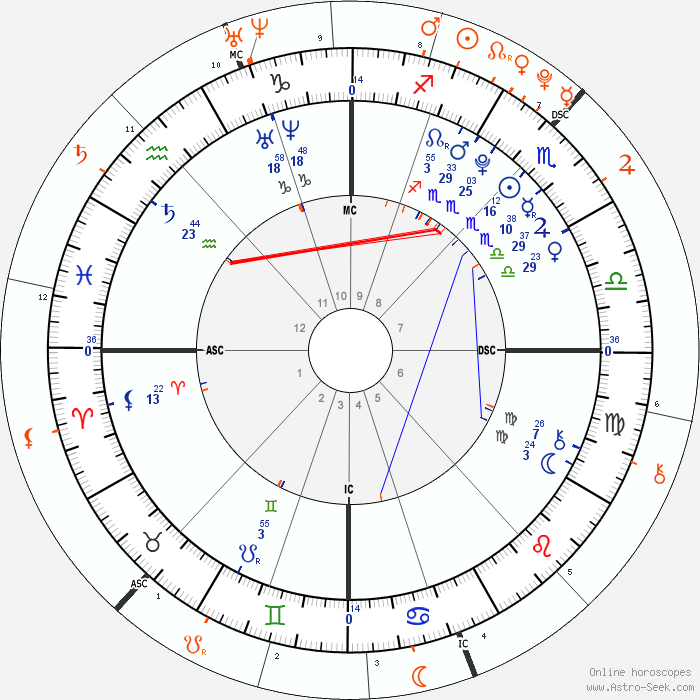 Example in this chart : The day a child was born
Moon = ruler of NA 5th house, and 4th house as well
• Progressed IC just entered the 5th house of children
• Progressed Jupiter sextile Moon (5th ruler) (1° orb)
• Progressed 5th house cusp at the end of natal 5th house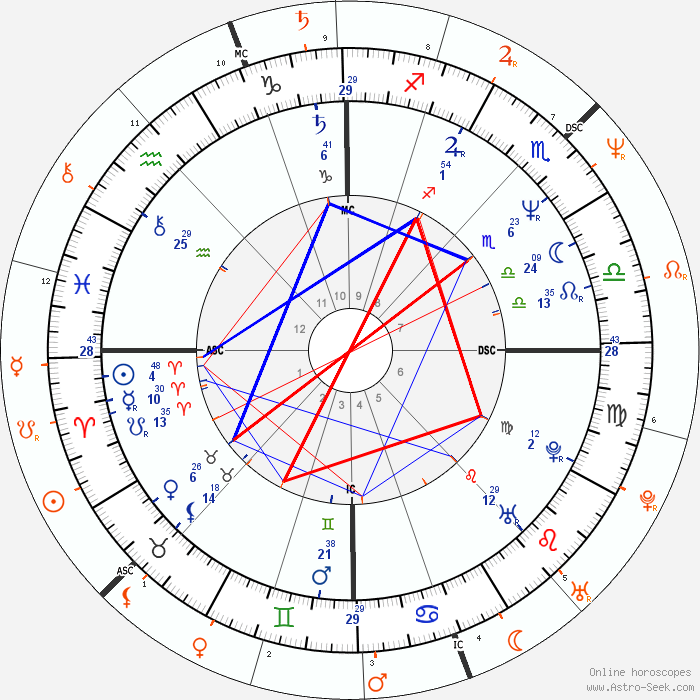 Example in this chart : First marriage
Mercury = ruler of 7th house
• Progressed Mercury trine Jupiter (Exact)
• Progressed Venus opposite Jupiter (Exact)
• Progressed Mercury just changes signs (ruler of 7th)
---
Finding new & significant relationships in the Progressed chart : Click here